Land Rover Defender Owner's Manual
---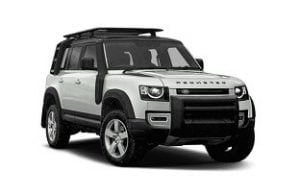 About The Defender
The Land Rover Defender is a rugged offroad-capable automobile inspired by military design.
It first appeared in the 1980s and was heavily inspired by the Willys Jeep – favoring utility over comfort.
You can easily tell apart the model from other cars due to its boxy design and simplistic nature.
The model was originally known as the "Land Rover" and then appeared with numbers after that name to denote the length.
You could purchase the original Defender as one of three wheelbase sizes:
90 – short-wheelbase
110 – long-wheelbase
127 – extra-length-wheelbase
It wasn't until the introduction of the Discovery nameplate in the late-1980s that the company began using the Land Rover name to encompass all of its range.
The Defender name was applied to the line until 1990 when the second-generation model hit the roads in the UK.
It was now offered with a powerful turbodiesel engine that could produce power when needed yet cruise comfortably on the road.
Over the 1990s the car was further improved by BMW who owned the Land Rover name at that time.
In the 2000s the Defender was then marketed by Ford who took on the company and added several smaller-displacement diesel engines to the lineup.
They added the turbodiesel engine that had already been performing well in the Ford Transit van and updated the interior that had remained since the 1970s.
In 2020 a radical new third-generation Defender came onto the market, developed by the recently combined Jaguar/Land Rover group.
Tata Motors had purchased both of these brands from Ford in 2008 and combined them to pool their resources.
The third-generation Defender (known internally as the L663) saw a radical new stylish design along with a major change in the chassis.
It no longer used a body-on-rails design and instead incorporated the chassis into the body, reducing the overall weight.
Instead of being aimed at customers such as farmers, it was now being marketed to the lucrative upmarket SUV segment.
Under the third-generation Land Rover Defender is the same offroad equipment you could find before but with a much more premium finish.
Construction of the car employs a lot of aluminum and thanks to hybrid technologies can achieve a much better fuel economy than its predecessors.