2021 Volkswagen Tiguan Owner's Manual
---
You can view the 2021 Volkswagen Tiguan Owner's Manual further down the page underneath the image of the cover.
Clicking on the "view full screen" button will take you to a full screen version of the manual.
Manual Cover
2021 Tiguan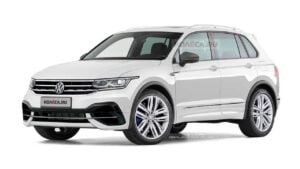 Originally the Volkswagen Tiguan was built on a platform that is shared with the Passat and Sharan but the second generation was moved to the company's universal one.
The universal platform under the second generation is shared with almost every Volkswagen and its sub-brands range of cars, including the Golf GTI and the 2021 T-Roc.
Tiguan's are classed as a crossover SUV due to having a chassis that would be more at home under a car rather than a traditional SUV.
This leads to a low-weight design that is cheaper to maintain and run - as well as being easier to drive and kinder to the planet.
2021 Tiguan's are examples of the 2016 second-generation model that brought mechanical and design changes.
It is available as a long or short-wheelbase with a range of engines including a sensible 1.4-liter through to the high-performance 2-liter turbocharged used in the R trim.
The longer wheelbase version of the car is branded as the Allspace trim and is just over 2cm longer than the standard model.
Sales of the car have been incredible and continue to grow year on year, recently pushing well above half a million Tiguan's sold per year worldwide.
The 2021 examples also benefited from a face-lift the year before adding the R trim and the eHybrid trim too.
Many new driver-aids and safety features have led drivers to require the owner's manual more frequently.
This manual can be found in PDF format on this page with a clickable table of contents to quickly find the page you need.
If you wish to view the manual on the official Volkswagen website then you may need to enter your VIN to access it, this is not needed here.
Maintaining and caring for your 2021 Volkswagen Tiguan is made easier in the latter half of the book with sections detailing the oil type, tire pressures and service schedule.