2019 Nissan Pathfinder Owner's Manual
---
You can view the 2019 Nissan Pathfinder owner's manual further down the page underneath the image of the cover.
Clicking on the "view full screen" button will take you to a full screen version of the manual.
Manual Cover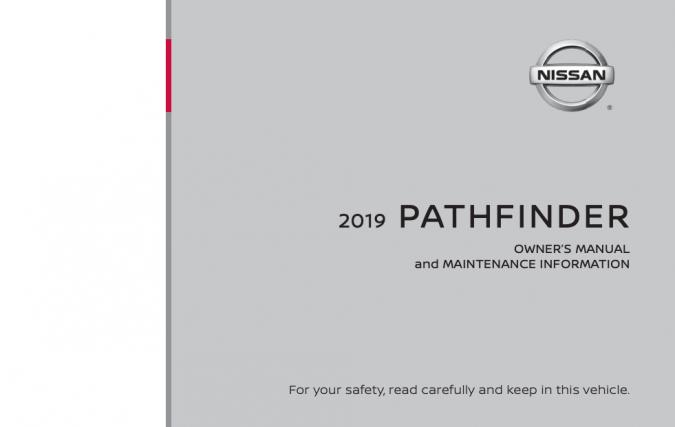 2019 Pathfinder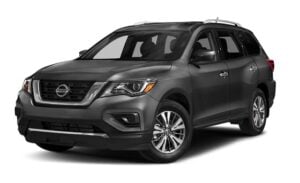 The Nissan Pathfinder name can be traced back to the mid 1980's when it first came to production.
The original model was more of a fun/sporty SUV to compete with the Chevrolet Blazer and Ford Bronco.
Over the decades the Pathfinder has evolved into a larger off-road'er designed to be more practical and family-friendly.
Off-road capability was reduced in priority and comfort was pushed harder to keep the driver and occupants happy and safe.
The 2019 Nissan Pathfinder is a later example of the fourth generation redesign that first showrooms in 2013.
The platform for this 2019 model is shared with other Nissan's including the Altima, the Maxima, the Murano and the Quest.
2019 model's were also given a new trim called the "Rock Creek Edition" adding dark alloys and other dark colored elements such as door handles.
Opening the owner's manual on this page you will find a clickable contents page after pages of legal information.
The "Illustrated Table of Contents" that comes up next features diagrams of the cars exterior and interior with labels to diagnose part names.
On page 9 you will find the "Warning and Indicator Lights" which prove to be a problem for many new owner's of the Pathfinder.
Safety is the next chapter and covers important aspects such as child seat restraints, air-bags and their locations plus other safety technology that may be built-in.